How To Transfer Your Website From Weebly To WordPress
So you decided to create a website and start a blog. You chose Weebly, because of their easy drag and drop system, and Weebly is great if you want to build a personal website or an online photo gallery. Up until this very moment, it has worked perfectly for you.
The only problem is, now you want to grow your business, you want to start monetizing your website and blog, but you are starting to see the flaws in your initial decision to use Weebly.
Luckily, it is not at all difficult to transfer your website from Weebly to WordPress.
In this post, I will explain to you step-by-step how to do it without having to copy and paste every single post you have ever created, so here we go…
Step 1. How To Get Started
If you are reading this post, you already have a Weebly website, so you should know that, in order to start a blog or build a website, there are a couple of things you need:
First of all, you need a domain name which is the name of your website (in my case www.thehonestaffiliate.com)
Secondly, you will need a web host, at the moment you are using Weebly, but in order to move your site to WordPress, you will need a new host
Yes, WordPress is free, but a domain and web hosting are both paid services. You can get a domain for anything from $14.99 / year and web hosting for around $7.99 / month.
Luckily there are cheaper options out there like Bluehost. Bluehost is officially recommended by WordPress and they offer free domain name and web hosting at the low price of $3.95 / month.
→ Click here to Claim this Exclusive Bluehost offer ←
Once you have set up your domain and hosting, the next step is to install WordPress. Bluehost has an easy one-click integration for WordPress, so you basically click the install WordPress button and wait for the installation to finish.
Once WordPress is installed, you can move to step 2, which is to move your Weebly content to WordPress.
Step 2. Export Content From Your Weebly Website
In the past there was no easy way to export data from Weebly, you had to physically copy and paste content to your new WordPress site
Luckily things have changed!
WordPress has developed a free online tool that imports your content from Weebly and converts it into a format that is compatible with WordPress without making any changes to your Weebly site.
It is extremely easy to use!
Go to the Weebly to WordPress Importer website and enter your Weebly website URL.
You will have to provide your name, your email address, and you will have to choose an export format.
You will see that the default export option is WXR format, DON'T change this.
You also need to choose if you want to include your Weebly pages in your export file. Once again, there is a default option, which is 'Yes'. This is completely up to you, you don't have to change it unless you don't want to export Weebly pages.
Next, you simply click the 'Export my Weebly Website' button, and the Weebly to WordPress Importer will fetch the content from your Weebly website and convert it into an export file that is compatible with WordPress.
Once the export is done, you simply right click on the button to download your Weebly export file and select 'Save link as' from the menu.
This will download an export.xml file to your computer.
Step 3. Import Weebly Content Into Your New WordPress Site
Great, now you have exported your Weebly content into a format that is compatible with WordPress, so you can import it into your WordPress site.
Firstly, login to your WordPress admin area and go to Tools » Import page.
There you will find a list with different importers for different platforms. You have to scroll down to WordPress and click the 'Install Now' link.
WordPress will fetch the importer plugin and install it on your WordPress site without reloading the page. Once it's installed, click on 'Run Importer' in order to launch it.
You will be taken to the WordPress importer page. Simply click on 'Choose file' to select the export.xml file you downloaded earlier.
Now, click the 'Upload file and import' button to start importing.
And just like that, WordPress importer will upload your export file and analyze it. You will be asked on the following screen to assign authors.
This is all up to you, you can choose to import an author from your Weebly website, you can create a new author, or you can assign all the content to the existing WordPress user (which would be you).
VERY IMPORTANT: Remember to select the box next to the 'Download and import file attachments' option. This will fetch all the images from your Weebly website into your WordPress media library, for use at a later stage.
The last thing you have to do is to click on the 'Submit' button to start to run the importer. Now WordPress will import the content from the export file to your WordPress database and if you checked the "Download and import file attachments' option, it will also try to fetch images linked in your Weebly blog posts and pages.
Once it is done, you will see a success message.
Well, hats off to you!!! You have just successfully imported your Weebly content to your new WordPress website. Now you can go to the different posts, pages, and categories in the WordPress admin area and check if all your content is there. Also, remember to check the media library in WordPress to see if all your images were imported from your Weebly site.
What I like about the importer, is that should it happen that the import process fails half-way through, you can always just run it again. The importer was designed to detect duplicate content and skip it so it will only import the content that wasn't imported successfully on your first try.
Step 4. Point Your Weebly Domain To WordPress
You were probably using a custom domain on your Weebly website (like in my case thehonestaffiliate.com), so you will have to point it to your new website hosting provider.
Login to your Weebly account and go to the Domains page. Once there, click on the domain name of the site you are moving to WordPress. Now go to the domain settings page and click on the change button next to the nameservers option.
You will be taken to a new screen where you have to enter your new WordPress host's nameservers. If you chose Bluehost, you can use ns1.bluehost.com and ns2.bluehost.com.
Remember to click the 'SAVE' button to store your new settings.
Something to keep in mind is that nameserver changes can take some time to take effect across the internet, but as soon as it is done, your visitors will start seeing your new WordPress site.
For those of you who were using a subdomain URL on your Weebly site (like http://yourname.weebly.com), then you would set up the redirect like this…
Login to Weebly and edit your website, then click on Settings and then SEO tab.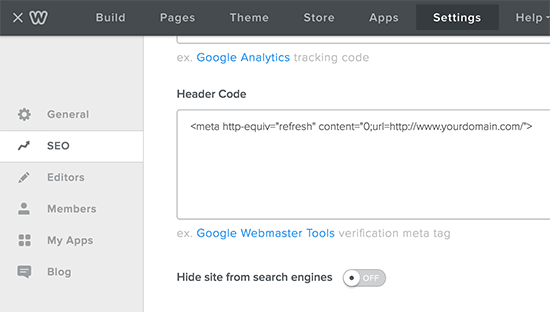 In the SEO tab, scroll down to the header code option and add the following line of code:
<meta http-equiv="refresh" content="0;url=http://www.yourdomain.com/">
The yourdomain.com should be replaced with your new WordPress site's domain name.
Once again, REMEMBER TO SAVE your changes!
Once this is done, you can visit your Weebly website, and it will refresh and redirect straight to your new WordPress website.
Step 5. Setup Your Permalinks
Chances are good that your Weebly website has a different URL structure for blog posts and pages. It usually looks something like this:
URL's for blog posts: http://example.com/blog/your-post-title/
URL's for pages: http://example.com/page-title.html
If you were using a custom domain for your Weebly website, users visiting a post on your old Weebly blog will now see a 404 error.
You can make sure that users are redirected to correct post by doing the following.
Go to Settings » Permalinks page, scroll down to 'Custom structure' and select that option now add /blog/%postname% in the text field next to it.
I know, I know, I sound like a broken record but, REMEMBER TO SAVE your changes! 😉
The next thing to do is to add .html at the end of URLs for your WordPress pages.
Install and activate the Add Any Extension to Pages plugin on your WordPress site.
Once it is activated, you have to visit Settings » Add Any Extention to Pages. and simply enter .html in the plugin settings, now click on the 'Update Settings' button.
Almost done!
Next, you have to go to Settings » Permalinks page and click on the save changes button to update your new permalink structure.
Step 6. Troubleshoot The Import
When your import is done, make sure that everything imported correctly. Look for any of the following:
Importing or replacing images
WordPress will do it's best to import the images from your Weebly website. It can, however, happen that some of your images did not download to the WordPress media library. Then you will simply need to import them separately.
Look for any errors in WordPress
Make sure that you do not see any errors on your WordPress site after the transfer. Should you find any errors, send me an email at info@thehonestaffiliate.com and I will try my best to assist you.
After Installing WordPress You Can Do The Following
Once your Weebly website is successfully transferred to the new WordPress site and new web host, you can start playing around to get the feel of the versatility of WordPress. You can change the theme of your site, add a header image and even start to brand your website.
If you found this post helpful, please share it with your friends and fellow bloggers.
Please comment with any questions or if you have any trouble with the export and import. I am here to help!
Now all that is left to do, is to continue creating quality content for your readers!